What I'm reading now Armour of Light
Well, that was embarrassing! Somehow a rogue rough draft of this review went out early this morning....yikes. Here's the real one.
The blurb:
Three women. One, the first white mage in 3,000 years will begin her training at The Academy of Magi, though there is none to teach her. Another, guardian of the Saphire Flute, loses everything, yet continues her search for the Wolfchild who will save their world. The third wants the keystones for herself and will stop at nothing to get them--including destroy the girls who find them first.
What a great sequel to
The Sapphire Flute: Book 1 of The Wolfchild Saga.
You will fall in love with Ember and Kayla all over again. Karen's amazing ability to create fantastic and interesting settings will blow you away. She has a fine grasp on writing stunning description and displaying character development. You'll really love to hate those evil characters and cheer for the good ones in all their crazy battles. You definitely don't want to miss this one-it's a keeper- adventure at its finest.

Find out more about the author
Karen Hoover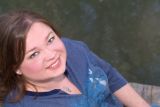 The E-Book is available at
Amazon.com
,
BarnesandNoble.com
, and
Smashwords.com
. And if you're bemoaning the fact that you can't get an autograph with an e-book, there's this awesome new thing called a
kindlegraph
that will send her a request, and I'll personalize a page for you to upload onto your kindle. You still get your autograph! It's so awesome!
Now, for paper copies, you'll need to go to her personal
createspace sales page
(her preference),
Amazon.com
, or her local bookstore,
The Purple Cow
. They ship. If you choose that option, just click on books and do a search for The Armor of Light. And of course if you want autographed copies, or posters, magnets, bookmarks, etc., go to her
blog
.